Here we go again – the "Holiday Season" – no other time of celebration brings such anguish along with it, from what to buy to what to say. I can't help you with the what to buy part, but can offer help in what to say in your greeting cards, or in everyday conversation.
When you live and work in the multi-cultural worlds of most major cities in America, the chances are pretty good that you have colleagues, neighbors, clients, and friends whose faith or culture is different from yours.
I'm a big believer in the sentiment that floats around Facebook every December that says: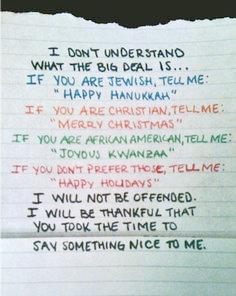 Say What Has Meaning for You
We have no right to demand that others go along with our beliefs or behaviors. We do have, if we truly subscribe to any one of the major religions, a moral obligation to treat each other as we would want to be treated. Here are ten statements you can put in the cards you send  either personally or for business, adding or omitting the names of your holiday or the one of the person to whom the card is addressed:
May your holidays and New Year be filled with laughter, good food, and good friends.
Warm wishes we send to you, for happy holidays, and in the new year, too!
Enjoy the sweet moments this holiday season can bring.
Make memories that last through the new year, give thanks, give love, and be of good cheer!
Amazing people like you make the world brighter for people like us. Thank you, and Happy Holidays!
There's no better time to tell you just how much your business means to us throughout the whole year. Happy Holidays!
Remembering you with warm wishes for a happy and peaceful holiday season.
Wishing you joy at the holidays and in the coming year.
May your holidays be merry, may it fill your hearts with cheer, and may all of you be happy throughout the bright new year!
Sending you warm wishes of gratitude this holiday season for your business, support, and referrals. Happy Holidays!
An added, personal message such as, "Dear Pete & Judy, hope your ski trip is great!" is a great way to let your contacts know they are special. One last tip: Hand address the envelopes. Yes, it takes a lot more time than printing and slapping on a label, but handwriting also tells the receiver you were thinking of them. Address a few at a time while you veg in front of the TV at night. If your penmanship is hard to read, hire one of your staff members or a friend to write them for you – and don't forget to give them a bonus check!
Happy Holidays!